NEWS
Legal Framework for the Child-Centered Special Education Process Partners Resource Network Special Education Information Center Texas Project First Autism Speaks FEAT of North Texas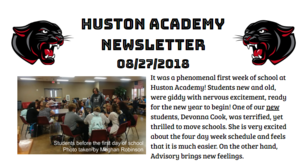 Huston Academy first week newsletter
Huston Academy will operate on a new and exciting schedule in the 2018-19 school year. We will go to school Monday thru Thursday with no school days scheduled on Fridays!! We have a great plan to accom...
SEE ALL NEWS
LIVE FEED
Reminder: Seniors are going on college field trip tomorrow, October 29th. They are leaving the school at 9:30 am and will return approximately at 1:00 pm.
21 days ago |
Carol Taylor
The Family Dinner for tomorrow night, October 16th is cancelled. We will reschedule another one at later date that is not determined yet.
about 1 month ago |
Carol Taylor
Huston Academy's first Family Dinner this year is Tuesday, October 16th from 5:30 pm to 7:00 pm. The Awards Ceremony will begin at 6:00 pm. We hope to see you there!
about 1 month ago |
Carol Taylor
Reminder: Seniors will have FAFSA Presentation for financial aid for college tomorrow, October 10th at 1:30 pm.
about 1 month ago |
Carol Taylor
SEE ALL POSTS
Events